Since the holidays are upon us, I thought I would include some favorite memories of Christmas from the past that have been shared with me. For a look now way back to the early 1900's, Eva Davis Alford, formerly of Livingston, who makes her home in Portsmouth, Virginia, shared some holiday memories her mother, Bertha Angeline Lewis Davis, and her uncle Frank R. Lewis had while growing up on a farm here in Overton County. (Eva's father was the late Oscar William Davis of Overton County.) Bertha Angeline Lewis Davis, daughter of Jesse Golden Lewis and Rosie Belle Read Lewis, was born Dec. 2, 1901 in Overton County. The following tells how she remembered the Christmas season in the early 1900's: "When Christmas came around, my mother would take her eggs that she used for barter for coffee and sugar and other necessities that couldn't be produced on the farm, and head for the store on foot, walking about three miles all total. We knew this was her Christmas Eve visit to the store to buy our gifts to place in our stockings. These gifts were usually some candy and oranges. One year, a cousin who boarded with us, bought me a doll, and one year my sister, Lizzie, bought me a doll. I guess they felt sorry for me, but oranges and candy were the usual gifts. These eggs my mother traded were precious commodities that furnished us with things we wouldn't be able to buy ordinarily. We rarely ate the eggs ourselves unless we had company. Another memory I have of Christmas is looking at the outside of the chimney where our dad had thrown mud on it to make us think reindeer had been there."
Frank Lewis, born on March 9, 1910, son of Jesse Golden Lewis and Rosie Belle Read Lewis, remembered the Christmas season this way: "There are so many blessings and memories of Thanksgiving and Christmas time that I hardly know where to begin. This season of the year was the height of joy. Our summer labors were over. We would get our wood in for the winter, and have all the work done so that we could go rabbit hunting and visit all around. There were usually some parties at night at our house, or my sister, Lola, would have a party. They would form a circle with four couples to dance. They called Shoot the Buffalo or others called Candy Girl. Some of the men with their girl friends would have oranges, and I would be given one. Oh, what joy!!
Mother and the girls always baked and prepared one big fruitcake for the holiday feast, with six or seven layers. Other pies were baked, plus meats, rabbit, quail, and chicken and dumplings. One year, on Christmas Eve, my dad and several other men and I went to Judd's Store. Someone bought me a banana. Was that tasty! As we left the store, I put the banana in my pocket and on the way home, I would take a pinch of that all the way so as to make it last as long as possible.
We would go to John and Harvey Breedings' on the high hill for our fire works, which were fire balls, the size of a baseball that we made from unraveled old sock thread and soaked in kerosene. We threw them in the air to see the fire and hear the roar from them. There were also firecrackers and shot guns. What fun we had!
One Christmas Eve, I had four sticks of dynamite that I bought from my work on the highway department and rock quarry near Hardy's Chapel. While people were having music and a party at the house, I went up in the orchard and tied these sticks of dynamite to a limb, lit the fuse and ran. Talk about BOOM! It got their attention at the house. They said soot and ashes fell from the chimney. The joy of Christmas morning was getting up, and sure enough Santa Claus had come. In our stockings, or sometimes in our shoes was a little bunch of candy, a few nuts, and an orange. One time I got a pretty writing tablet and a pencil. What joy Christmas was!"
==========================================
Vonda Conatser Dobbins, (formerly of Alpine, Tn, now living in Newnan, Georgia)
My family moved from Indiana to Alpine around 1953, and from there, we moved to Allred. One year, we had two foster children, a brother and a sister, living with us. My dad was working in the coal mines. My older sister had quit school and was working at the shirt factory. My youngest brother had just gotten out of the Navy. It was Dec. 2, two days before my 12th birthday. When I got off the school bus that day, my mom and dad were watching everything we owned go up in smoke. Our house had burned to the ground. We had nothing left except the family Bible my mom somehow managed to save. It was only three weeks until Christmas and we did not even have a home. We spent two or three nights with family and friends, and then people started giving us clothes, old furniture, everything. Some man (I do not remember who he was) told my mom and dad he had this little three room house we could live in. It also had a little built-in porch my mom papered with cardboard boxes and put up a rack as a place to hang our clothes. Someone had given her an old sewing machine, and since my mom was a great seamstress, she started altering the clothes we had been given to fit us. The little kids living with us had a list for Santa, of course, and even though I had a very nice winter coat, I wanted what was called a Kar coat. That was the "in" thing, I guess. Well, I don't know how my parents did it, but we had a Christmas tree, and Santa came with gifts for the little ones, and a new coat for me. I have had a lot of great Christmases before and after that one in 1956, but somehow that is the one I remember most. We had nothing, but we were all safe and together as a family. To me, that is what means the most.
==========================================
Suzanne Stephens Winningham (formerly of Livingston, now living in Tullahoma, TN)
All our life my mother had talked about her little dog that she had growing up with, Mitzy a Boston Terrier. One Christmas morning after all the presents were open, and mother was cooking breakfast the doorbell rang. We of course weren't dress yet so no one would go to the door. Mother answered the door and there was a big Christmas present addressed to mother from Santa. We were jumping up and down squealing with excitement. But when she opened the box it changed our families' life! There was the most precious little Boston Terrier puppy which would be named " Katie". She became the love of all our lives and loyal friend to our older dog Brownie. She brought much laughter into our lives for example when she was a puppy her head was so much bigger than her body that when she ate from a bowl her little back legs stayed up in the air and she stood only on her front legs. She showed us what Christmas JOY is all about.
===========================================
Barbara Stephens Buckner, (sister of Suzanne, formerly of Livingston, now also living in Tullahoma, TN)
This is my fondest memory of our family at Christmas time...... Perhaps it's because family tradition has always been important to me, or maybe it's because Christmas is really about love and sacrifice. Whatever the reason, this particular Christmas will forever hold a special place in my heart. My birthday is December 17th, one week exactly from Christmas Eve. It was always a tradition in our family to drive out into the country, search the woods together for the most perfect Christmas tree, and to have it put up and decorated by my birthday. I suppose I was 6 or 7 years old on this particular Christmas, and Mother, Daddy, Suzanne, Chipper and I headed out to find that special tree. We searched and searched, but just could not find a worthy tree. And then the worst thing I could ever imagine happened. It started to rain and rain hard. We all ran back to the car, and it became obvious that we would not be able to get a tree that day, and for the first time we would not get our tree up on my birthday. As the rain fell harder and harder, I remember sitting in the back seat crying because I was so disappointed. As the youngest in the family, I guess my tears were just too much for my brother and Daddy. That's when the most amazing thing happened. Daddy told Chipper to get the saw and to come with him. They got out of the car in the pouring rain, and after what seemed like hours to me, came back with the "perfect tree". Their decision to weather the storm in search of our family Christmas tree is a sacrifice that I will always remember. It was the best birthday present ever!
===========================================
Willie H. Bilbrey, Allons, Tennessee
Having been born in 1933, which was right after the great depression, times were very hard in Overton County, as well as all over the world. There was very little money in circulation, and it had to be used to purchase the basics for survival. There was little left to be used for Christmas presents. I have often wondered about my parents' feelings when it come time to purchase Santa Clause. We never had a Christmas tree. There was no electricity. My first memory of Christmas would be in the year 1936 or 1937. On Christmas Eve we were coached to bed early. We placed an old cane back chair at the foot of the bed with the back of the chair toward the bed. We would hang our long knee high, brown cotton stockings across the back of the chair. This was the container in which Santa would leave his presents. Everyone, both boy and girl, wore long, above the knee stockings during the winter months. The stockings were held up by a garter placed above the knee. On Christmas morning we would awake and rush to the foot of the bed. There lying on the cane bottom of the chair would be a stocking filled with one orange, one apple, one banana, two or three types of candy, and a few nuts. This was the only time during the year that we would be able to eat oranges and bananas. I would save the peelings from that one orange, dry them, and soak them in sugar water to make the orange flavor last. Sometimes there would be a small toy. One year I remember receiving an inexpensive harmonica. Christmas was just as much fun then as it is now with all the gifts and glamor. We appreciated what little we received perhaps more than children do today with all the electronics, glamor, and fanfare. We were poor then and did not realize it. We have abundance today and do not realize it. Thus, the magical spirit of Christmas, which comes but once each year, is a state of mind, a state of the soul; isn't it what we choose to make it. Ultimately, when the fantasy fades, the only thing that has meaning is Love, Christ, Eternity.
============================================
Matilda (Bussell) Speck, Livingston, TN
Christmas was a wonderful time for Mary Lee and me as it is for most children. It was truly about family for us. When we were small, we would come down the stairs on Christmas morning to see what Santa had brought us. But the doors to the living room would be closed because we had to wait until Grandmother and Granddaddy Bohannon came from Monterey. They were always there early. Then we would call Grandmother Bussell, Aunt Mary Price and Uncle Roy Smith. We would tell them to hurry up and get there so we could see what Santa had brought us and open our gifts. It seemed as if it took forever for them to get there.
My memories of Christmas became even more special after Mary Lee and I had children of our own. Mary Lee and her family would have Santa at their home in Russell Springs, KY. Everyone living in Livingston would meet at our house to open gifts on Christmas morning and I would cook breakfast. Mother always had to rush off to make sure the turkey was cooking properly. Around noon Mary Lee, her family and everyone would meet at Mother's. We would open gifts again and have a big family dinner. Mother made the best dressing ever. My husband's parents, Ray and Marie Speck, were always there too. After all the dishes were washed and the kitchen cleaned Mary Lee and I would set on the floor in the living room with our children playing board games while the men slept thought a ball game. That was so much fun. It was so wonderful for everyone to be together. We followed this traditioin until Mother passed away in April 1999. I do miss those times.
==============================================
Mary Lee (Bussell) Marshall, Russell Springs, Kentucky
Before my Dad died, I was given a bb gun. The stock had been sawed off so I could hold it. I got to shoot it into the fireplace. I then shot out a window. The bb gun was then put up and could only be used with my Dad around. Mother kept the gun. When my son was older, she gave him the bb gun. He still has the gun.
Things I miss now at Christmas. Going home. Everyone coming to house, the hugs, kisses, the cooing, and awing. Marie Speck always saying "Christmas gifts!" That is when I knew Christmas had begun at Mother's. Fresh coconut cake, dressing, egg custard... Matilda and I gossiping ,telling about our lives, laughing and telling jokes as we washed up all the dishes. It was truly a wonderful time that will always stay in my memories. BECAUSE Christmas isn't about the gifts, but the gift of family and friends.
============================================
Catherine (Crouch) Gunter, Monroe, TN
Christmas will forever to me be a small cedar tree standing in the corner of a too small living room decorated with only pine cones, sycamore balls and strung popcorn. The smell of the ham that would be our Christmas dinner coming from the kitchen and the taste of freshly baked cookies that would be Santa's snack later that night. I fondly remember the sound of Bing Crosby singing "I'm Dreaming of a White Christmas" and other favorite Christmas songs coming from an antique record player. Before bedtime, my father would read to everyone the story of Christmas from the Bible as was done by his own Father when he was boy. I remember three cousins and I lying in a single bed in the living room with only a wood stove to keep us warm. We whispered and giggled while waiting for sleep that would not come and eagerly anticipated the visit from Santa Claus later that night. And of course, I remember the excitement of opening the presents left under the tree and the emptying of the stockings filled with fruits, nuts and a few hard candies on Christmas morning. Most of all, however, I remember the love and warmth felt that we all shared simply by being together. Many years have gone by since those past Christmas' but I remember them with fondness and longing as if it were yesterday.
================================================
Donna (Bilyeu) Paul, Alpine, TN
I don't recall a specific toy or present under the tree as being my most memorable. But I do remember a special gift my mother gave my siblings and I for Christmas every year. It was a tradition that was magical to me. When I was a child, and it doesn't seem all that long ago, twinkling lights were something you only saw in abundence twice a year, at the county fair and Christmas. As soon as Thanksgiving was over, my mom would devote a day of painsaking, detailed decorating for Christmas. We had a large picture window in our living room. I can remember looking out that frosty window at my mom dangling from a ladder stringing lights from one end of the house to the other. She would decorate the porch with lighted plastic statues of Santa. When she finally came in the house, she would continue to outline each of the front windows with lights and lighted candles. We had a fire place with artifical logs and aluminum foil that rotated under a red light that looked like a fire. The mantel was always decorated in perfect detail along with our beautiful Christmas tree. By dark, my mother had single handedly created our own version of the lighting at the Opryland Hotel. It seemed that big and special to me. We'd watch Rudolph and Frosty through the reflection of the twinkling lights on the TV screen while my mom made my dad's favorite walnut fudge. That holiday excitement is instilled in me. Every year when I decorate my home, I feel that special Christmas gift that my Mom gave to me. I love you Mom and thank you!
===============================================
Glenna Combs - Manchester, Kentucky
When I was a child in our log cabin on Big Branch, our Christmas began not a few weeks before December 25th, but a few days before December 25th. My brother, Vernon, would be sent out to find a nice shaped pine tree. He would take an axe and chop the tree down. I can still close my eyes and imagine the smell, sweet and spicy, of fresh pine needles and resin seeping out of wounds where branches were trimmed.
The stump of the tree was placed down into a 50 pound lard bucket and fist sized rocks placed in the bucket around the trunk to hold the tree upright and prevent it tipping over. We didn't put the trunk in water because we never kept the tree up more than 3 or 4 days. Once the tree was secure, the lard bucket was wrapped with pretty paper to hide the ugly bucket. The tree was then placed in a corner of one of the bedrooms. If you wonder why we put it in the bedroom, that was because every room but the kitchen was a bedroom. There was no 'living room'. Mom, dad and 10 kids in a small, four room cabin left no room for luxuries. We either sat on the edge of the bed or in a straight backed, home made chair when there was time to set at all.
After the tree was secure the trimming began. The older girls, Jewel and Delphia, would cut crepe paper from red and green bundles into one inch strips. One strip of red and one of green would be secured in a cris crossed manner with a straight pin or safety pin. Next, the streamers were folded over each other back in forth until all the length was used up. The last ends were also secured. Then, the whole thing was unfolded, making a chain of alternating colors. These chains were wrapped around the tree as garland. Large kettles of snow white pop corn was prepared. We ate out of it as we strung the kernels on a needle and thread for white garland. The smell of hot butter and salt on fresh popped corn and the sound of the skillet being shaken back and forth and the corn a popping evoke Christmas memories still.
We did have a few store bought glass ornaments in red, silver, gold, green and blue. Also, there were some plastic ornaments which were a ghostly, light green color and they glowed in the dark. The ones I remember most were in an icicle shape. I can remember standing in the corner by the sassafras dresser with one of those cupped in my hands, my little body and head blocking out the light so I could watch it glow. I was fascinated with these. Both plastic and glass was strategically placed on the tree. Where there were bare spots, white paper was folded and cut into ornate snowflake and star patterns and hung by string on the tree. The final touch was applying the long tinfoil icicles. There were no lights on our tree because we had no electricity. However, the shimmer of those icicles in the glow of the coal stove or coal oil lamps sure was pretty!
There was no waste of pine boughs. Those that had been trimmed off to make the tree fit our ceilings were placed over the top of each window and door sill. Holly branches were also placed in the window sills and over the doors. There was always a sprig of mistletoe as well. We drew and colored holly leaves and berries, snowmen, jingle bells, and other symbols of Christmas. These were cut out and taped to the window panes.
I really don't remember much about our Christmas dinners when I was young. I know we always had a baked ham and chicken and dumplings. Two things that I always remember having was mom's apple stack cake and daddy's fruit salad. Dad had gotten the fruit salad recipe from an old colored woman in Beaufort, South Carolina when he worked down there building army barracks during WWII. Fresh bananas, apples and grapes, canned fruit cocktail, maraschino cherries, sugar and canned cream were all mixed in a large dishpan. It was covered with a cloth and set aside. No refrigeration was needed, but it didn't matter anyway since we didn't have one. The fruit salad would last all week, the longer it sat, the better it was! It is still a tradition in our family, someone always makes daddy's fruit salad. We would also have boxes of oranges, apples and bananas and plenty Christmas candy.
Older brothers and sisters who had left home to find work in Ohio, Michigan, or Indiana would come in for the holiday. Mom's feather bed would come off her bed and be placed on the floor nearly under the Christmas tree, and all the children would sleep crossways there. There would usually be 5 or 6 of us. We could hardly wait for the morning!
Anytime that all my brothers were together, the guitars, fiddles, mandolins, and banjos were brought out. Many nights I went to bed to the sounds of a bluegrass shindig. When I was a little older, one of the things we teenagers did was the Christmas eve caroling around the neighborhood. It seems to me that it snowed more back then. Many times we walked as the fluffy snow flakes fell as big as quarters making a thick blanket over everything. There were 12 to 15 of us who were big enough to go caroling. At many of the houses they would ask us to come in for hot cocoa and cookies. As we came back toward my house, we could hear the thumping of patting feet a long way before we could hear the music from my brothers instruments. We would play and sing until late in the night. Music has always been an integral part of Christmas for me.
Christ, family, music and friends - these are the things Christmas is made of.
================================================
Ola and John Fadely, Newberry, Florida
Christmas has been a happy time as long as long as I can remember. Times as a child helping decorate the tree with all the homemade decorations. Since there was no electricity in our home, the tree had no lights. The sad part I recall from my childhood was when I found out who Santa really was. I thought my heart was broken forever. John and I were married on Christmas Eve, 1958. So each Christmas is an anniversary to celebrate also. Christmas 2008, we celebrated our 50th, and we were so lucky to have our three sons and their children home. We have seen many changes during our lifetime, but here we are, getting ready to observe another Christmas and another anniversary. We feel so lucky and so blessed. So many wonderful things to be proud and happy about. Merry Christmas and Happy New Year to our Family and friends.
================================================
Eunetta Finley Jenkins, Cookeville, TN
I never knew a tree could "speak" until one Christmas when a beautiful tree sent me an unforgettable love message! I have always thought having a Christmas tree and being with one's family, maybe sitting around drinking hot chocolate, is all one would need to celebrate the Christmas season. My Dad knew how much I loved decorating the Christmas tree, so each year he managed to get us the best tree he could afford. I am sure there were times when we did without something else in order to have a Christmas tree. There was one particular year that I remember Dad got us two Christmas trees! This one Christmas, Dad brought in a tree---a very small tree….and looking back, I am sure he sensed by disappointment, but we never spoke about it then or ever. We decorated the tree, and I thought it was beautiful! Christmas trees to me are somewhat like a bride….I think all Christmas trees are beautiful! But now for the surprise! The day after Christmas, here comes Dad with the most beautiful huge white flocked Christmas tree I could ever dream of….he had gone by the store selling Christmas trees and they were dumping all the trees; he said he just thought it was never too late to have a Christmas tree….or two…..and he was right… It really didn't matter after all that we had a BIG tree ….it was the love it left behind all these years, and so my Christmas tree each year really does "speak" to me with love!
==============================================
Sarah Holloway, Cookeville, TN
A Christmas memory that I've never forgotten -- Getting 10 dolls one Christmas that included the Dionne quintuplets, which were the most famous babies in the world at that time -- Marie, Emilie, Annette, Yonne and Cecile, born in 1934. I remember they had dark hair and long white gowns but have no clue whatever happened to them. They'd surely be valuable today.
===============================================
Linda Gail (Greer) Knowles, Sparta, TN
My Christmas memories are great! Growing up I would wake up in Livingston and open presents, then my Daddy would pick me up around noon and I would go to my grandparents house in Jamestown to be with that side of the family and open presents again. I have the best memories of being with both families, especially being at my grandparents house and having a big Christmas meal. The most unusual Christmas memory I have is when I was in high school. A day or two after Christmas, Mary Belle (Copeland) Jolly had her granddad's car. She picked me up for a night of going around the square and riding around. There were four of us but I don't remember who the other two were. It was cold and there was some ice on the road in patches. We were going down the hill in front of Bruce Estes's old pool room when it was two way traffic and Mary hit a patch of ice. The car started fish-tailing in front of Brown's Flower Shop. She could not do anything with the car and it turned sideways, hit the stone wall head on near Mr. Floyd Davis' house. We had wrecked granddad's car! No one was hurt, just shook up a little bit. I had my hair in what was called "a beehive" type hair-do. When we hit the stone wall, a bottle of 7-Up I was drinking went right into that beehive hair-do. I had 7-Up and wet hair running down my face. There was no 911 to call and we never even thought of going to the hospital. Someone took us home, and afterward, the thing that worried us most was we had all been smoking when we hit the wall. We were so worried about granddad finding the cigarettes in the car. The next morning we went to where the car had been towed to get the cigarettes out of the car. We looked the car over and there were no cigarettes. We never could figure out what happened to them, but we sure were relieved.
=================================================
Among my most favorite Christmas memories is one from the years my children were small. We started a family when we were still living in a two bedroom trailer in the Taylors Crossroads community. When it came time to go look for that absolutely perfect Christmas tree, that usually took a whole day. We roamed the hillsides far and wide until my husband could locate the one to put his stamp of approval on, and usually, when we got it back home, it took up most of our tiny living room space. One year after our search had been completed and the tree was all decorated, our oldest son, Michael, made some little toy soldiers out of construction paper to go under the tree. He used pipe cleaners for their arms, and each one had on a hat. We have a picture that shows all three kids sitting in the floor near the tree admiring Michael's handiwork. The little toy soldiers all lined up nearby ready to march to the music. That picture and the memories that go with it are priceless treasures that I hold dear to my heart.
Here's wishing everyone the happiest of holidays for 2009!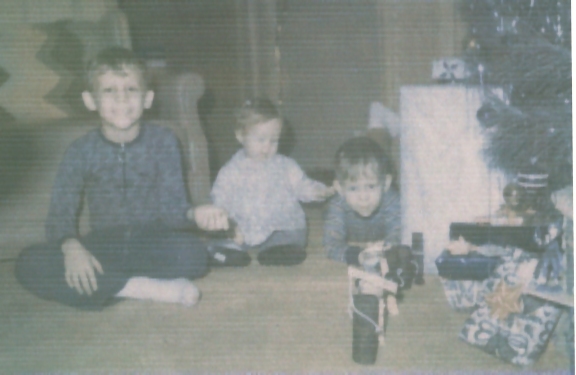 Little tin soldiers made from construction paper are ready to march to the Christmas music. This photo of our kids, Michael, Brian, and Amy, was taken in the living room of our two bedroom trailer in the early 1970's. Michael made the construction paper soldiers that Christmas.