Dr. Thomas A. Langford
Cathy Ward Sullivan shared the following story with me about her great-grandfather, Dr. Thomas A. Langford, who practiced medicine in the late 1800's in Hilham and the surrounding communities. Here is a look back at one of Overton County's early doctors:
Born January 16, 1855 in Overton County, Tennessee, Dr. Thomas A. Langford was the son of George H. Langford and Elizabeth Hall Langford. He was the second in a family of sixteen children, nine boys and seven girls. Those sixteen children in the order of their births were: John S.; Thomas A.; Samuel; Winchester; Luther; Martina; Mararan; Martha Jane; Mary; Hyram; Nancy; Addie Bell; George R.; Rufus M.; Sarah B.; and Ras. In addition to raising a very large family, George H. Langford served in Company K of the 28th Tennessee Infantry.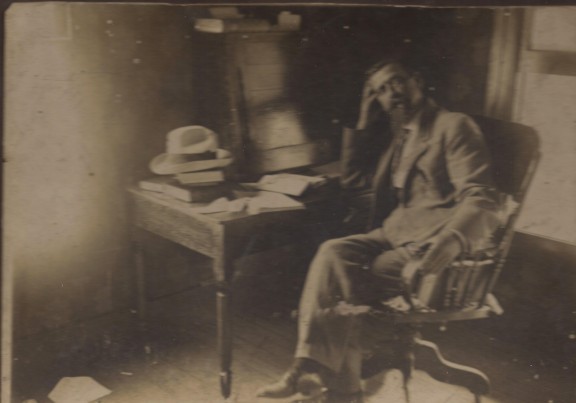 Dr. Thomas A. Langford, who was photographed in his office at Hilham, seems to be deeply concerned about one of his patients.

It was early in life that Thomas Langford realized if he were to become a responsible person, it would require a lot of hard work and determination. He was about nine years old when the Civil War began. Like most children who grew up in that time period, Fiske Academy was the school he attended. Where he obtained his medical training has not yet been determined, however inscribed in one of his medical books is Vanderbilt University. In addition to going to medical school, many of the pioneer doctors in this area often trained with other doctors for several years before starting their own practice. Dr. Langford began practicing medicine at approximately 27 years of age. He married Mary Jane Hill on May 20, 1886 at the home of her parents, George W. Hill and wife Martha Ann Beaty Hill. Elder W.D. Carnes performed the ceremony and those who served as witnesses were R.L. Mitchell and Lucy Terry who later became husband and wife. Dr. and Mrs. Langford's home was in Hilham with his office located in the side yard of the property. He served as an Elder for many years and also as a minister when called on. He performed weddings and funerals as well. He was very active in community and civil work. He traveled in a horse drawn buggy or rode horseback throughout the area to visit the homes of his many patients. The area he served consisted of Allons, Timothy, Celina, Burristown, Butlers Landing and many other small communities in this area. In 1896, Dr. Langford had a new home built for his family. That same year, daughter Wilkie Alice, was born. This house is still standing and has been remodeled at least three times.
The Langford house still stands on the main highway in Hilham. This is an early photograph of that structure.

Dr. and Mrs. Langford had a total of five children. William (Willie) Biddle born September, 1887, died August 1888. Wiley Bruce, born in September of 1889 and died in July of 1924, at the age of 35. Mabel Clara, born in October of 1894, died in December, 1894. Wilkie Alice, the only child who lived to grow old, was born May, 1896 and died April, 1980, at the age of 84. An infant son born and died in 1898. Cathy Sullivan often wonders how her great-grandfather must have felt about not being able to prevent the deaths of his own young children.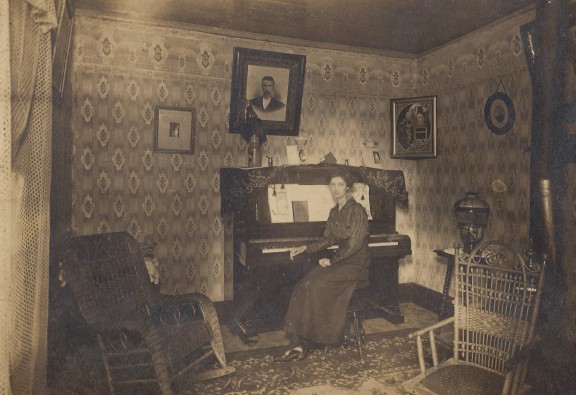 Wilkie Alice Langford Craft, daughter of Dr. Thomas Langford and wife Mary Jane (Hill) Langford, was a gifted pianist who often played difficult classical music. She was photographed in the parlor of the Langford home in Hilham.

Wilkie Alice was a very beloved but also a very spoiled little girl while she was growing up. Early photographs always show her in very fashionable clothes. She never lacked for lots of toys and dolls. At a young age, Wilkie Alice began taking piano lessons which she continued through her adult life. Dr. Langford ordered a piano especially for her from a company in New York by the name of Wing & Son. The piano was shipped from New York to Nashville to Cookeville and then on to Livingston by train. From the depot in Livingston, it was transported on to Hilham by way of a freight wagon. Wilkie Alice became a very accomplished pianist and played quite difficult pieces of classical music. After she graduated from Fiske Academy, she taught music at Willow Grove High School for two terms. She also taught many children in the community from her home in Hilham. She never refused to play when asked to do so. She often came to school in Hilham to play for the chapel programs. On June 30, 1915, Wilkie Alice married Elbert Franklin Craft, son of Granville W. Craft and wife Justina Belle Craft. The wedding ceremony took place in the home of her parents. Elbert was in the U.S. Navy during World War I, and completed a total of twenty years service prior to his discharge. After the wedding, the young couple left for New York where Elbert was stationed. They later lived in Florida and Virginia as well. Elbert was once again activated during World War II working at a naval base in Norfolk, Virginia as a retired civilian. Wilkie Alice and Elbert had four children, Frank Bruce Craft, who died at the age of 16 from an auto accident; Mary Evelyn Craft Ward (wife of Leonard O. Ward; mother of Rose; Cathy, Frank; Judy; and Jennie Ward); Donald Hill Craft (single); and Betty Justine Craft Ledbetter Goeforth (first married to J.C. Ledbetter and later to John Goeforth. Betty and J.C. had one daughter, Pamela).
Dr. Thomas A. Langford practiced medicine in Hilham and the surrounding communities for approximately 60 years. Failing health forced him to retire in 1937. He died on June 28, 1942, at the age of 87 years, and was buried in the Fiske Cemetery in Hilham. Both Dr. and Mrs. Langford were lifelong members of the Church of Christ at Hilham.