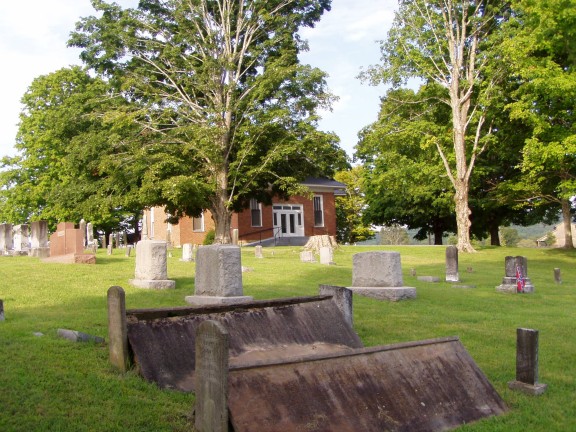 Circuit ministers began serving at the Bethlehem United Methodist Church in the early 1800's.
A young lady by the name of Mary Katherine Sproul, who went by the name Miss Molly, taught in the log building at Bethlehem. A book entitled "A Civil War Diary" was written by Miss Molly, and after reading only a few pages of the diary, it is quite obvious she was an extremely well educated young woman, and one who was not afraid to stand up and voice her political beliefs during a time when that sort of thing was unheard of. Copies of that book can be purchased at the Overton County Heritage Museum. Here is some information from the Sproul book: Bailey Owen Bowden was the youngest of eight children whose parents were Elias Bowden and wife Mary (Owen) Bowden of Fentress County. Named for his grandfather, Bailey Owen Bowden was born in 1834 near Boatland. He worked on the farm with his father until he was twenty-two. At that age, he entered Mount Cumberland Academy which was located in Poplar Cove of Fentress County where he attended three sessions. He then enrolled in Hiwassee College, walking eighty-five miles to reach the school, and later taught Latin there. He had completed two years and six months at this college when the Civil War broke out. He enlisted in the Federal army and served until the close of the war, taking part in the battles of Nashville, Franklin, and others. Following the war, he became the first Clerk and Master of Fentress County, receiving the appointment in 1865. It is believed that when the Sproul family first came to Overton County, Mary Catherine, her parents and younger brother lived somewhere in the Hartsaw Cove or Copeland Cove area of Overton County. Miss Molly taught school at Bethlehem prior to the war in a little log building that was used as both school and church. Being an outspoken Union sympathizer in a county that favored the Confederates, life was difficult during the war years. Most families eventually withdrew their children from her school and she was forced to close it for lack of funds. In 1867, Bailey Owen Bowden, who also taught at Alpine Institute, married Mary Katherine Sproul. In the foreword of Mary Katherine's book a granddaughter, Helen Roberts-Gayden, wrote this about her grandmother on January 16, 1944, : "My grandmother, Mary Katherine Sproul, better known as Molly, was a small woman with beautiful red hair and blue eyes. She possessed something more for women in those days, a college education. Her brother, William Henry Harrison Sproul, sent her through school at The Female Institute in Maryville, Tennessee. She was known to be very spirited and independent. Her brothers (2), father and mother lived at Jonesville, Virginia, where she was born. Her father's name was James Sproul, her mother was a Barker before her marriage. She always boasted of belonging to the F.F.V.'s (first families of Virginia). While she was away at school, she had a very sad love affair. The young man to whom she was engaged was forced to marry another girl in order to clear her name. Broken hearted, Mary Katherine, along with her father, mother, and younger brother, John, moved to Livingston, Tennessee, in Overton County, where she was to open a school. It was while she was teaching there that the Civil War broke out. After the war, she married Bailey Owen Bowden. He also favored the Union and fought with the Federal Army, oddly enough against six brothers who were in the Confederate Army. He too completed a college education. Having so much in common contributed to a very happy marriage between Mary Katherine and Bailey Owen Bowden. She was 35 when she married, and at 36, gave birth to a little girl. Nora Deane Bowden, was to grow up and marry Albert Houston Roberts, who became a teacher, lawyer, and judge. Nora Deane was a brilliant child of brilliant parents and was also a talented pianist. Mary Katherine "Molly" Sproul Bowden was a very fine artist. Her house contained paintings in every available space. She destroyed these when she became old and her mind had failed. She was a very colorful and impressive character up through her last days."
Around 1900, Mary Katherine Sproul Bowden and Bailey Owen Bowden built the large white house still standing on the corner of East Main and Roberts Streets directly across from the sanctuary of First United Methodist Church. The house was originally built to face East Main Street, but since has been turned around to face Roberts Street. For a few years, the Bowden daughter, Nora Deane and husband, Albert Houston Roberts, lived in the home with her parents. At that time, Albert Houston Roberts was a practicing attorney in Livingston, and later in 1919, went on to become Governor of the State of Tennessee.
Both Bailey Owen Bowden and Mary Katherine Sproul Bowden are buried in Good Hope Cemetery in Livingston. A grandchild, Albert H. Roberts, Jr., is buried beside them.
Orpha Halsell's information about Bethlehem states that a deed from A. Christian and A. Cullom was made to the following Trustees of the Bethlehem church: Jesse Allen, John H. Lea and I. L. (Issac Lafayette) McCormick, known as "Uncle Fate," my great-grandfather. When the new wooden structure was completed, the little log building was torn away. Then in 1918, this wooden building burned to the ground on the night following the burial of the wife of Jube Collins, who served as sheriff of Overton County at that time. Although no one knows for sure, the fire was believed to have been accidently started by some hunters who may have stopped in to warm themselves.