Prior to the naming of Dale Hollow Lake and Dam, Secretary of State Cordell Hull, recipient of the Nobel Peace Prize for his work in establishing the United Nations, employed Miss Will Harris of Livingston as his assistant/secretary. She was an aunt of Miss Rose Hart Dale. Miss Will Harris' sister, Leila Harris Dale, was married to Jake Bennett (J.B.) Dale, a descendant of the Dale family who settled in Clay County in an area known as Dale Hollow. It was because of the Dale family connections to Cordell Hull's assistant that Mr. Hull went to President Roosevelt and requested the name "Dale Hollow" be selected for the lake and dam. President Roosevelt honored his request. The name originated with William Dale, a government surveyor and veteran of the War of 1812, who settled originally in Willow Grove. Mr. Dale bought his first 449 acres of land nearby in 1808. The farm eventually grew into a plantation known as Dale Hollow where he and his descendants lived until the dam was started in 1942. The waters of the lake ultimately covered the farm along with the community of Willow Grove.
Rose Hart Dale was born on the 23rd day of October, 1910. She was the fourth of five children. Rose Hart was named for two individuals; Rose was for a friend of her Aunt Will Harris and Hart was for her grandmother Susan Hart Harris.
A two room school that had been the home of John H. Estes and wife Lillie May Estes once stood on what is now University Street. That was the school where Rose Hart attended first and second grades. The children enrolled in the third, fourth, fifth, and sixth grades went to a school in another building that once stood on Oakley Street. Sliding down a red clay bank at that school was something Rose Hart and her friends loved to do, but she often got in trouble with her mother as a result of the hard-to-remove red clay stain left on her clothes. The seventh and eighth grades were included in the high school building that once stood where A.H. Roberts Elementary school is now.
While attending Livingston Academy, Rose Hart was a member of the girls basketball team. Because there was never any money appropriated for any of the sports programs in Overton County school systems then, the girls on the 1926 basketball team made their black bloomers used as part of their uniforms in their Home Economics class. She later went on to coach girls basketball, and in 1941-42 her team were the winners of the 15th District Championship games. Rose Hart's interest in sports continues on today.
The year was 1928 when Rose Hart graduated from Livingston Academy. Having a real desire to further her education at Transylvania College in Lexington, Kentucky, Rose Hart left Algood on a Tennessee Central Railway train headed for Lexington. She was only 17 years old at the time, and had rarely traveled very far from home prior to leaving for college. Her mother arranged for a friend to meet Rose Hart in Harriman, the place she was to change trains, just to make certain she got on the right train to complete the trip to Lexington. While attending Transylvania, she boarded in a large residence owned by the college. The housemother of the residence reported that some of the girls who stayed in her home while attending Transylvania cried part of the time due to homesickness, but Rose Hart cried all the time. Rose Hart agreed, she had never been so homesick. While in school at Transylvania, she worked in the YWCA cafeteria for meals. Tips she received while working there was the only extra money she had. She completed two years at Transylvania and then returned home to teach school for the next two years at Okalona. She finished her third year at Tennessee Tech, and her last year of college, she returned once more to Transylvania where she graduated in 1935.
Rose Hart's father was a highly respected citizen of Overton County as is reflected in his obituary that appeared in the Overton County News in 1936 as follows: Jake B. Dale, 68, more than thirty years a prominent member of the Overton County Court, and a well known farmer and livestock grower, died at his home in north Livingston, on Monday, October 26, 1936, at about 4:00 p.m. after a lingering illness of heart ailment and complications. Mr. Dale was one of the most widely-known men in the county and perhaps no man in the county has attended more business connected with the duties of the office of Justice of the Peace. He also served as deputy for several of the Trustees of the county, and was widely known for his ability and integrity. He was a member of the Livingston Lodge No. 302, Independent Order of Odd Fellows. He is survived by his wife, Mrs. Lelia Harris Dale; three daughters, Mrs. A.F. Officer, Mrs. M.R. Stephens, and Miss Rose Dale; two sons, Charles H. Dale of Gatlinburg, and Oscar Dale of El Paso, Texas; three sisters, Mrs. Mona Barrett, and Misses Lura and Lizzie Dale; two half-sisters, Lillie Dale of South Carolina, and Jessie Lee Dale of Livingston; one half-brother, Perry Dale of Nashville, and his step-mother, Mrs. A.L. Dale. Funeral services were conducted at the home on Wednesday afternoon by the Rev. E.R. Vaughn, with burial in the Good Hope Cemetery.
Rose Hart has a total of 40 years of teaching, twenty of those years spent in the state of Texas and twenty years in Tennessee. She also served approximately four years as librarian for the Overton County library. Retired from teaching since 1974, Rose Hart celebrated her 99th birthday near the date of Livingston Academy's 100th birthday celebration. For the past eighty-eight years, she has been an active member of First Christian Church in Livingston. Just prior to her 100th birthday, she was honored by the Overton County Retired Teachers Association for her many years of dedicated service to the teaching profession. Her 100th birthday was celebrated on October 23, 2010 with a birthday celebration at Overton County Chamber of Commerce conference room. The event was hosted by her family and was attended by well over 100 friends as well as former students. Rose Hart has always maintained a nice, trim physique, and for the most part, she has always enjoyed excellent health, requiring little or no medication for most of her life. She is an inspiration to everyone who knows her, and is considered a most favorite teacher by many of her former students. And as Abraham Lincoln once said, "And in the end, it's not the years in your life that count. It's the life in your years." Miss Rose Hart's 100 years is certainly an excellent example of a life lived to the fullest.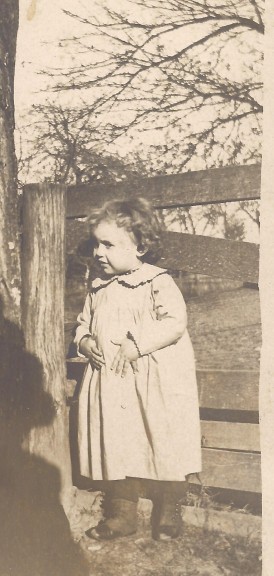 This photograph was taken of Rose Hart Dale by her first grade teacher, Ms. Henrietta Stoy, who came by the Dale home each morning on her way to school. The purpose of stopping by was to tell Rose Hart a story so that she would not cry while her mother combed her naturally curly hair before sending her on to school.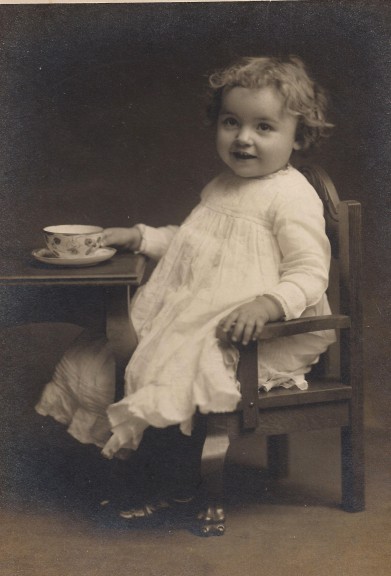 Rose Hart was around three years old in these two pictures. Many times, Miss Will Harris, a sister of Rose Hart's mother, and assistant/secretary to Cordell Hull, would pay the costs of photographs taken of the Dale children.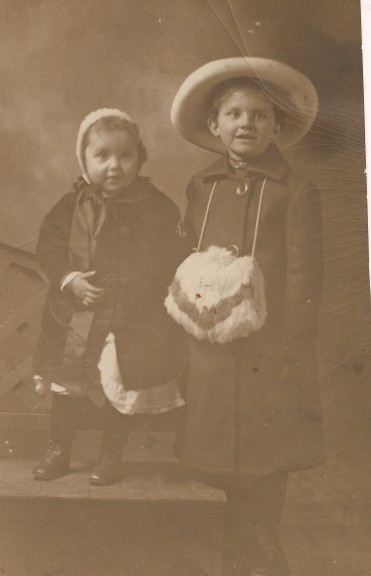 Two of the Dale sisters, Leilable (standing) and Rose Hart (seated), pose together for this picture. Rose Hart wanted a muff like Leilable had for the photograph.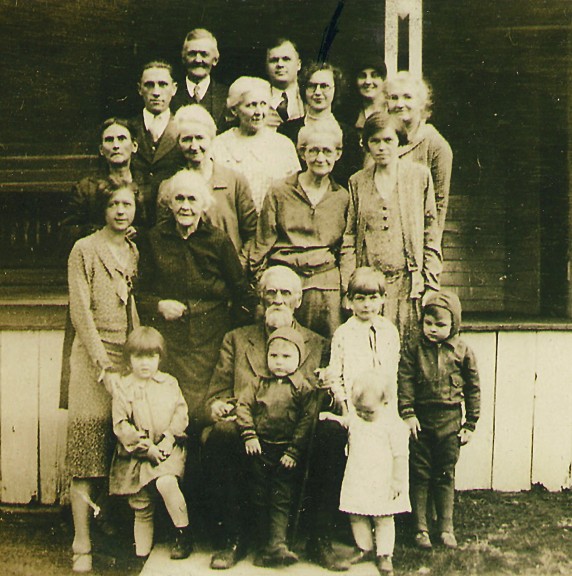 Birthday Party Picture - 90th birthday of Albert Lafayette Dale, Grandfather of Rose Hart Dale.
Top row: J.B. Dale; Perry Dale, half-brother of J.B. Dale; Mary Lou Dale, wife of Perry Dale
Next row: Walter Russell Dale; Elizabeth Dale; Rose Hart Dale; Leila Harris Dale
Nora Dale, mother of Russell Dale; Mona Dale Barrett; Lura Dale, both sisters of JB Dale
Ruby Dale Stephens; Jessie Lee Dale; Lou Dale, second wife of A.F. Dale
Children: Virginia Ray Stephens;
A. L. Dale, holding unknown child
Alice Dale
Frances Sue Dale (in white dress)
Mary Lou Dale
Rose Hart's senior picture was taken to be included with her Livingston Academy graduating class of 1928. The pin she is wearing in the picture had her name engraved on it and was a gift from the friend of Aunt Will Harris whom she was named for.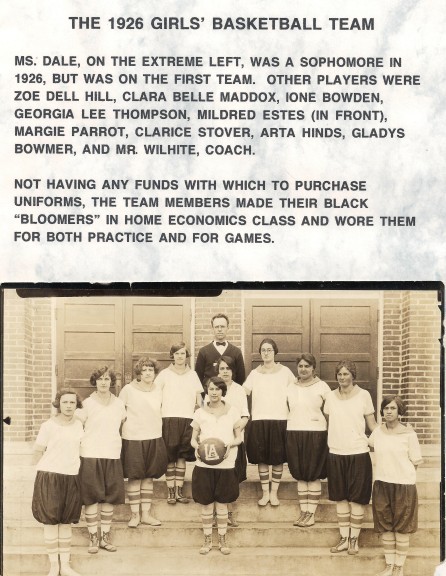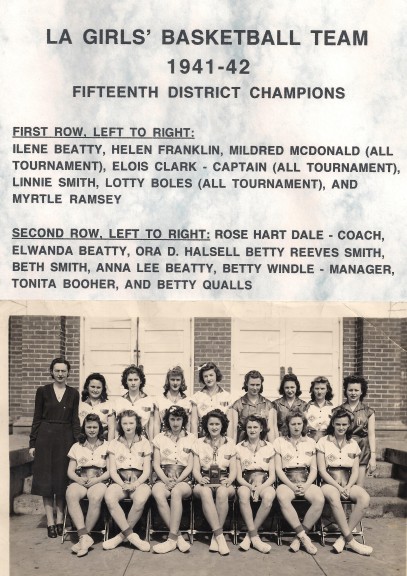 Rose Hart poses for a picture on a trip out west. This photo was taken between Pecos, Texas and Carlsbad, NM Friday, June 13, 1941.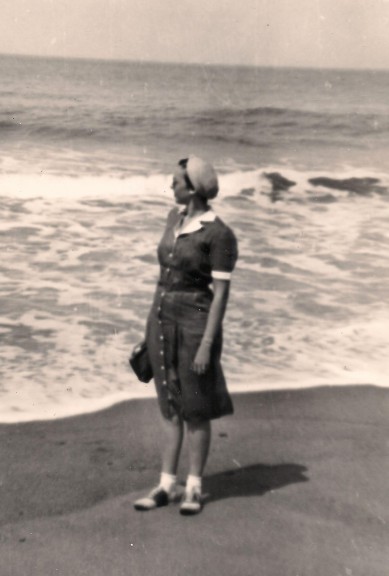 Rose Hart enjoys the Pacific Ocean on a trip out west. This photo was made June 21, 1941 Malibu Beach, CA.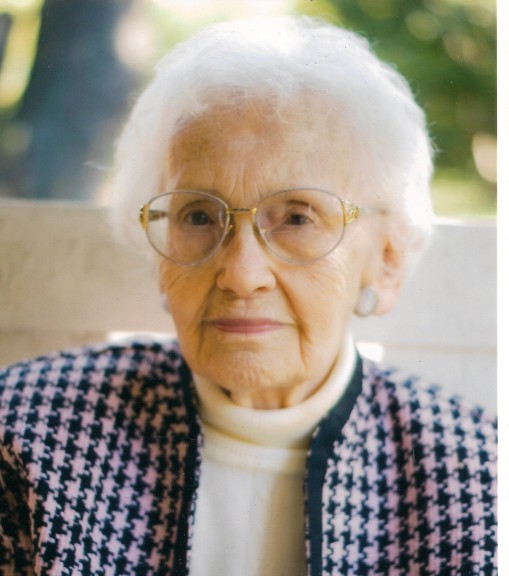 This photograph was taken of Rose Hart Dale just shortly before her 100th birthday.